These 3 lovely girls, Danielle, Casey, and Alysia hosted a 2012 New Year blogging party gift exchange which of course I was excited to jump on board since I am so new to the blogworld.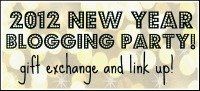 Sidenote: I was a little worried that whoever I was matched with would be a little disappointed that I am so new to blogging I don't have very many followers, but not this girl. She is sooo sweet and real about her life and parenting.
I couldn't have been happier with who I was matched with
. Holly
and her sweet family remind me a lot of mine besides the fact that they have 2 kiddos. Haven and Olive are precious and Olive reminds me so much of Crewe when he was a newborn with a full head of blonde hair. That's a rarity. I just LOVE a toeheaded baby.
From one Momma to another, Holly knew exactly what I needed in the craziness of life right now.
A) Cheap Date
B) Child entertainment
(how she knew candybars entertain my child for hours I will never know)
I mean seriously, how cute and creative is that! You can check out what I got her
here
.
Happy Tuesday!